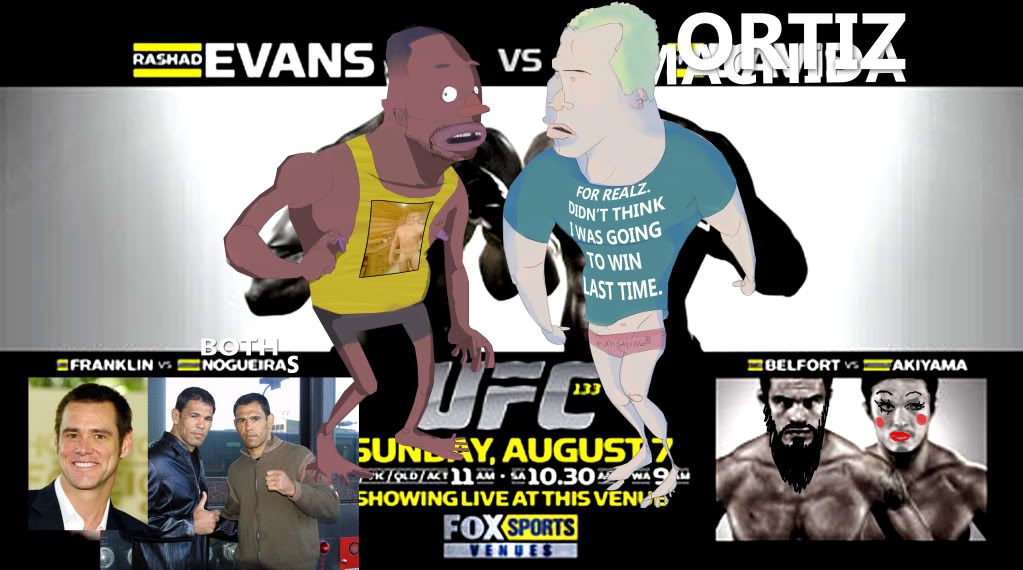 iamphoenix's updated UFC 133 poster
Despite initial reports that Tito Ortiz turned down and Lyoto Machida accepted the offer to step in for the injured Phil Davis against Rashad Evans at UFC 133, it turns out that opposite is happening. To hear Dana White tell it, Machida initially agreed to the fight, but then demanded an Anderson Silva-sized payday, to which Dana responded pretty much how you'd expect.
"Machida accepted the fight," White told MMAjunkie.com. "We knew for a couple days this was going down, and Machida accepted the fight. Then when we called back and said, 'OK, we're going to make this fight,' Machida's people came back and said, 'We'll tell you what. You pay us what you pay Anderson Silva, and we'll take the fight.' This was after they had already agreed to take the fight.

"I said, 'Are you [expletive] kidding me? I'll tell you what. You tell Machida (if) he achieves what [expletive] Anderson Silva has achieved, then maybe he'll make Anderson Silva money. Have a nice day.'"
As far as I can tell, both Lyoto and Anderson are currently getting the same $200K flat rate per fight… so I guess Anderson's getting a healthy PPV cut while Lyoto's getting a much smaller one or none at all. Anyway, according to Lyoto's wife Fabyola, it was his commitment to "professionalism" that made him turn down such a short-notice fight, and doing otherwise would have been "silliness". Uh huh. I suspect he would have silly-walked all the way to the cage if they'd offered him a big enough piece.
Meanwhile, Tito's riding so high from his first non-Shamrock finish since 2001 (!!!) that he quickly changed his mind.
"Tito turned it down, and then Tito called back and said, 'Did you get the fight yet?'" White said. "I said, 'Nope.' He goes, 'Let me think about it. Let me talk to my team, and I'll call you back tomorrow.' This was Tuesday night."
And if you're wondering how much job security the Bader win earned Tito, it looks like sacking up on short notice like this actually counts for more.
"[Expletive] right, he gets a break," White said. "Tito stepped up to the plate. It's [expletive] weird here. It's like I'm dealing with a new person. I like it. I like the new Tito.

"The storyline is what's so interesting. Tito went from, 'You're about to be cut,' to now, if he beats Rashad Evans, he's back in the mix. He's back in the picture."
So win or lose, Tito's gonna be around for at least one more fight after Rashad, which should be more than enough time for us to determine whether he's really "back" or if the Bader win was just kind of a fluke. Either way, please no more gravedigger routines, kay?