As far as couple volatility goes, you have to think a relationship between a prizefighter and a porn star is one of the worst combinations you could come up with.  Unfortunately, it's no surprise that Tito Ortiz and Jenna Jameson, who were together for a few years and have twins together, blew up like only the bad matchmaking experiment they were truly could.  Jenna got on twitter today to accuse Tito of … everything, really:  beating her, stealing their children, cheating drug tests and a host of other wrongdoing.
Tito immediately responded with a blanket statement on twitter and soon thereafter spoke to MMAJunkie to talk about Jenna's allegations in more detail.  He said,
… Jenna doesn't want to be a mom. She has a problem, and I don't want to bash her because she's the mother of my children. But I've tried to help somebody for the last seven years. I tried to make a family, and it's hard to do that when somebody else doesn't want to contribute. I just look at as I can't help somebody that doesn't want to be helped. She can try and bash me as much as possible. The only thing it's hurting is my children.

She accused me of drug use," Ortiz said. "I've been in the UFC for 15 years. I've taken drug tests at every single one of my fights. I take them months before my fight, a month before my fight, right before my fight, after the fight. She can try to bash me as much as possible, but it is what it is. When someone has a problem like she does, she can't help herself. I tried for seven years to help her. Right now, it's just about my children.

She has opportunities to see her children," Ortiz said. "She hasn't shown up. She flakes out.
Most of the interview, however, was Tito talking about co-parenting with Jenna and trying to prepare for fights.
I went through so much drama. All my fans know all the problems I had with her during my fights. It seems like every time that I had a fight coming up, she was getting a DUI or she was on the Internet or she was partying and just kind of ruining me mentally before my fights. I had enough with her, and I walked away, and I took full custody of the kids. For her to say that I keep her from seeing her kids is B.S. I give her the opportunity, and she flakes. She doesn't show up. We have monitored visits. She calls the monitor and says she can't show up or that she can't afford it and this and that, but she's out every week celebrating her birthday. She's on her 12th celebration this coming Friday in New York. I don't understand it.

I'm sick of crying. I'm sick of trying to worry about somebody who doesn't want to be helped. I walked away, and for the first time in my life, I'm actually happy. I can wake up every day and not have to worry about stuff missing from my home. I don't have to worry about people stealing stuff from me. I don't have to worry about bad people being in my home. I can trust who's around my kids.
Tito always seems like he's doing an okay job trying to be a good father while staying involved in the fight game and of course dealing with his situation with Jenna.  I guess what happens when someone with more twitter followers than you gives birth to your children is that you have to defend yourself when they remove their filter and just go for it.  However, those of you who are totally over reading Jenna Jameson's words can rejoice over this incriminating photo she posted to support her PED allegations: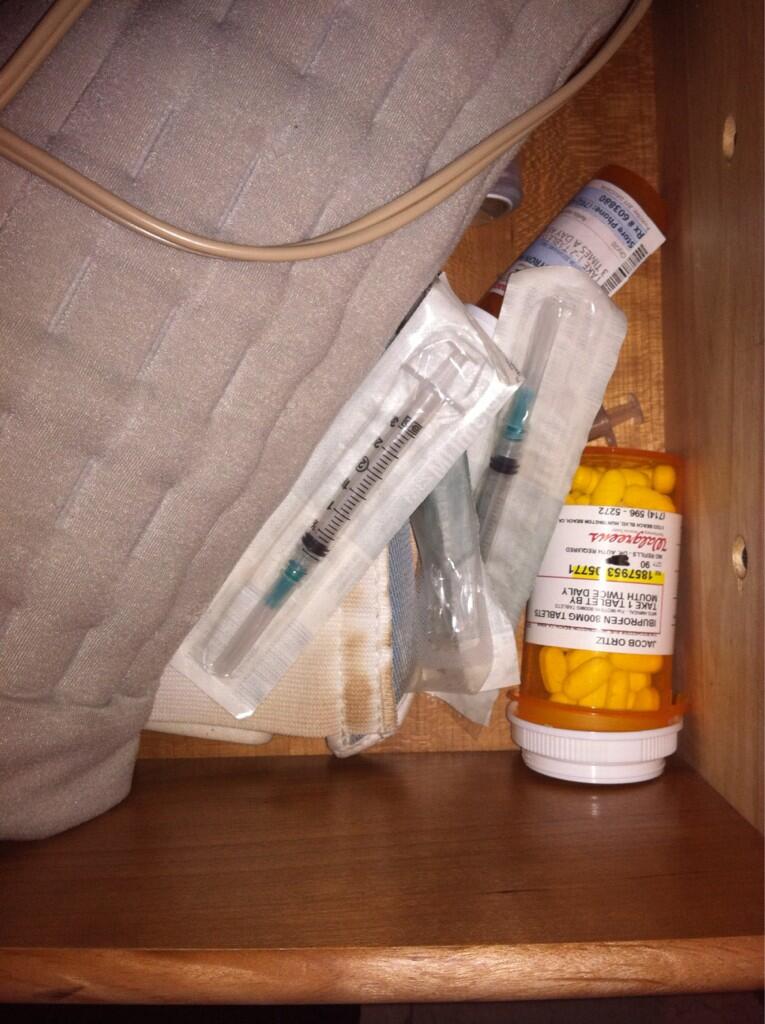 Syringes!  Tito's birth name on the bottles!  How scandalous!
Anyway.  It's a gross story and I'm sure we'll be hearing a lot more about it, but I find this a fitting end from the Jenna side of things: