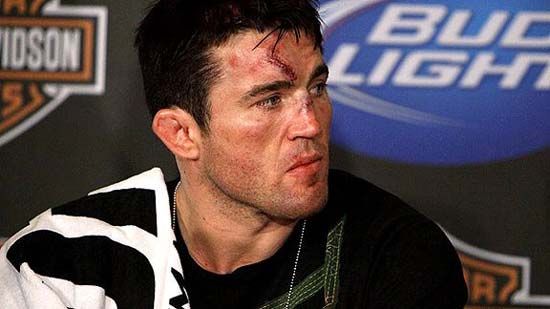 What's that? A foreigner who's highly susceptible to shit-talking, you say?
They say that a shark can detect one drop of blood in a million gallons of water, and if the UFC is the ocean then Michael Bisping is the wounded fish flopping around and sending out a delicious scent that a super-troll like Chael Sonnen is simply powerless to resist. The entire MMA world learned on Saturday that " target="_blank">a few youtube videos are more than enough to send Bisping into a frenzy of bruised ego and butthurt paroxysms…so what's he going to do now that dear old "Uncle Chael" has set his sights on him? MMAWeekly scored the following e-mail from Sonnen to Joe Silva, which should be enough to whet any fan's appetite for unending, brutal trash-talk:
To: Joe Silva, Matchmaker Extraordinaire, Ultimate Fighting Championship

Re: Spitsbing & his tainted victory

Joe:

If you get a chance to talk with him, please mention to your idiot-in-residence Michael Spitsbing it'll be a little tougher to knee ME in the head when I'm charging at him like a runaway train and mincing him through the fence like a boiled potato, should we ever have the pleasure of each other's company for a few (VERY few) moments in the Octagon.

Oh; and I'd suggest to him being a little careful about spitting on any of MY cornermen, since any one of them can beat him up as badly as I can. Thanks ever so much.Hope all is well.

-Chael Sonnen
And so it begins. I genuinely fear for Bisping's mental health if this match comes to fruition or if he gets stuck coaching a season of TUF with Sonnen. Seriously, the guy might have a fucking hate-stroke before they even get in the ring.
HT: mmaweekly.com