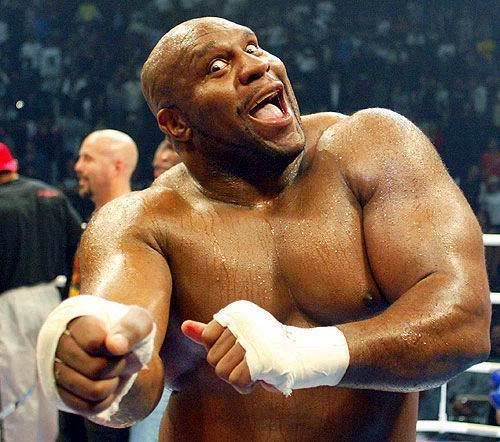 How can you hate a face like that?
No that's not a title to one of those zany Japanese porn films, though Multiple Black Rape is also a shoe in. No instead it's basically what happened to Bob "The Beast" Sapp on New Years Eve. Unlike most rape stories Bob was not drugged but he was lured with fantastical promises.
Sapp on Monday evening told MMAjunkie.com (www.mmajunkie.com) that promoters were supposed to pay him $30,000 to fight Shinichi Suzukawa in a modified-rules bout at the year-end show in Saitama Super Arena in Saitama, Japan.

Instead, he claims FEG executive Sadaharu Tanikawa offered him $15,000 shortly after he arrived in the country the week prior to the event. He refused and made a counter-offer of $25,000, a sum which he claims is half of what the promotion owed him for previous services.
Bob Sapp really is one of the smartest fighters out there, he is basically the highest paid shitty fighter except for maybe Tito. In fact he used to get paid like $400K for fights back in the day. Knowing how sketchy money matters with some promoters can be he usually has a solid plan.
Usually, Sapp requires promotions to put his purse in an escrow account long before fight time to avoid financial disputes. This past July, he was pulled from a fight card for the startup Impact FC promotion after officials failed to do so. With DREAM, he decided to press his luck, which was a decision he now regrets.
Some might say "Hey, Bob why not just take the money and fight anyways?" How would would like it if you were promised some money but later the guy tried to pay you half as much. It's down to setting precedent and self respect. He might not be the huge draw he used to be, still 100% freakshow, but he deserves to be paid what was promised.
He is but one of many fighters who have been either paid late or not at all by FEG. Basically the company is on its way out and can't pay fighters. The long awaited Chinese investors have for the most part moved away from this dying whale. Even the President of FEG thinks the ship is sinking.
"The current course is that FEG will die," Tanikawa said. "There are probably staff members that will leave as well. The event name will be left but the promotion will change. If the current structure remains as it is it will be impossible to continue. If many investments from companies overseas do not come in we can't survive."
Maybe Strikeforce can come to the rescue… or the UFC will buy Zombie Pride to complete the set.