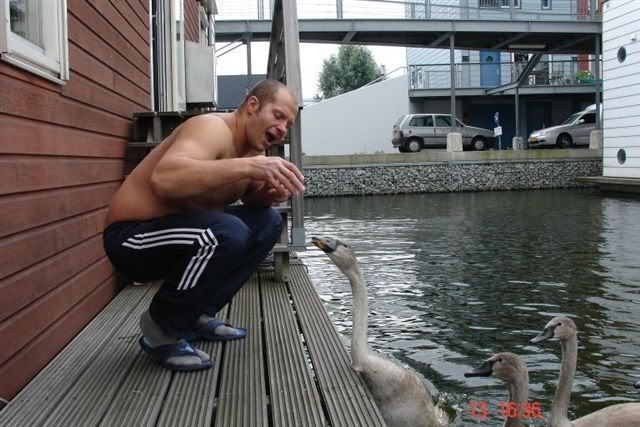 And now, ladies and gentleman, prepare yourselves for yet another post concerning the "Fedor-Barnett-Affliction-WTF" story that has literally consumed the MMA blogosphere like Michael Jackson's mouth used to consume Macauley Culkin's cocknballs. Too soon? Fuck off.

Much has been made about the fact that Josh Barnett's departure from the Affliction Trilogy main event will spell doom for the promotion. In reality, the situation is going to wind up having the opposite effect.
The Affliction cards have catered to the same type of people that check sites like Fightlinker, Cage Potato, and Bloody Elbow 27 times over the course of a 24 hour period. I am talking, of course, about the hardcore fans of MMA. While Fedor vs. Barnett was an intriguing match-up that was pitting the definitive top heavyweight in the sport against the man many consider to be number two, Barnett being forced to drop out of the main event is not going to deter any significant portion of the potential audience of hardcore fans from watching the show. The undercard still features a plethora of solid match-ups sure to excite any hardcore fan, not to mention the fact that Fedor will still be fighting. If you are reading this and saying to yourself "Pffff I dunno what this fuckbag is talking about because I'm not ordering that show without Barnett in the main event" then you sir, like a white guy in the NBA, are the minority.
What Barnett's positive drug test has done is increase the buzz surrounding this show and, no matter how you slice it, buzz will help the bottom line. "Buzz" means more attention and more attention means more viewers. It's science. Or math. Or common sense. Either way, every MMA site you go to right now (go ahead, give it a try) will have about half of its top stories in some way related to this whole situation. Whether it's concerning Barnett's drug test, Fedor's potential opponents, whether the show will still go on, why a 42 year old MMA promoter should not have giant hoop earings, or how Jorge Santiago has become the red-headed step-child, Affliction Trilogy has just become much more newsworthy than it was prior to The Babyface Assassin pissing into a cup.
As for the casual fans who make up the difference between a "meh" buyrate and a decent one, the loss of Josh Barnett is of little consequence. Barnett is not known for his exciting stoppage victories. The biggest win of his career was a TKO victory over Randy Couture that took place over seven years ago — which is a long time before TUF ever aired on Spike TV. Not only is his physique not all that menacing, but it actually makes you want to poke him in the belly to see if he goes "hoo-hoo." The fact of the matter is that those who have only been turned on to this sport through the UFC over the past few years do not know who Josh Barnett is. And if they do, they do not know enough or care enough to make it impact their decision to watch the world beater that is Fedor put a hurting on another human. Do not take this as a knock on Josh Barnett's fighting ability. The man has beaten some of the best heavyweights in the sport. But when asked the question of whether his loss will make a difference on the PPV buyrate, the answer is no. Fedor is the selling point and Fedor will still be fighting. That is all that matters.
On top of all that, I for one am intrigued by Fedor stepping into the ring with either Vitor Belfort or Brett Rogers. Feel free to blast the shit out of me in the comments but I think both guys pose more interesting problems for Fedor than Barnett does. Go ahead. I'll wait for the verbal assault.